City of peace academy
The experience gained during our school campaigns, as well as in numerous initiatives organised with the Università degli Studi della Basilicata and with the International Institute Jacques Maritain, has highlighted the need to implement, with the support of national and international experts, training programmes aimed at people who have left school or university and who are interested in learning more about migrant reception, peace, and geopolitical studies..
CITY OF PEACE SUMMER ACADEMY 2023 ***NEW***

The Academy planned for 2023 is titled Climate crises and environmental migration. Perspectives and innovative tools.This theme was chosen because it is now clear that climate crises will increasingly be one of the main factors for migration. To emphasize the importance of environmental protection, the summer academy will take place in the Vulture Regional Park, in a unique natural environment and where the hosting projects run by the Foundation together with ARCI Basilicata are also based at Rionero in Vulture. In the program in addition to theoretical insights from experts, virtuous cases of combating climate change there is a sustainable design workshop held by the Mario Cucinella Architect studio.

HERE ALL THE INFORMATION PRE PARTICIPATE IN SUMMER ACADEMY 2023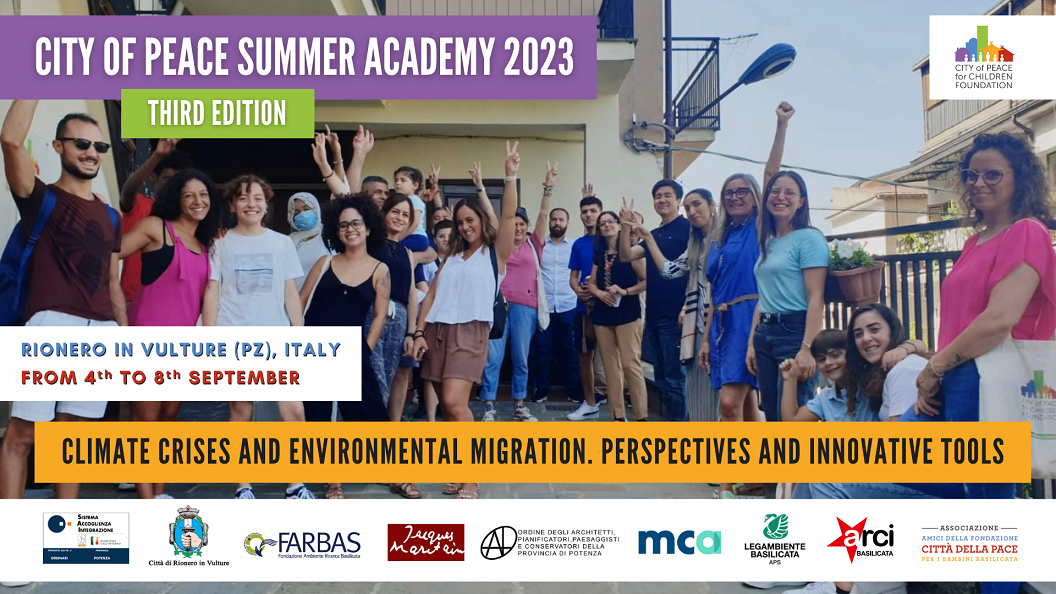 CITY OF PEACE SUMMER ACADEMY 2022
In September 2022, after the break imposed by covid restrictions, the second edition of the City of Peace Academy entitled: "Public Art as an Innovative Tool for Understanding Migration" took place.

For a week, 10 young participants, from Basilicata but also from various parts of Italy and Europe, gathered in Sant'Arcangelo to examine the most advanced experiences on the use of public and participatory art in order to experiment with a new way of bringing refugees together with their host communities.

Here is the video that was made by the participants, the result of the workshop held by "Le Drifters" artists Sandrine Nicoletta and Valentina Miorandi with Lorenzo Benedetti.
Summer Academy 2022 - Workshop con le Drifters - YouTube
CITY OF PEACE SUMMER ACADEMY 2022
CiTY OF PEACE SUMMER ACADEMY 2020
In May 2020, the online course Rebuilding a Better World addressed some important directions of change and offered a view of the current state of affairs, while trying to catch a glimpse of what, how, and how much our world will change after COVID-19. The online course was developed with the contribution of the Nobel Peace Laureate Professor Muhammad Yunus, of experts from the Yunus Centre for Social Business and Health (Dhaka), and of some Italian experts. It aimed at disseminating basic knowledge of social business and at involving students, teachers, and entrepreneurs potentially interested in propagating the social business methodology through information technology.
Please see here a video of the workshops
https://www.youtube.com/playlist?list=PL6GE8DiDbNhUhq_DuTBntY2-Vr5pKY-U3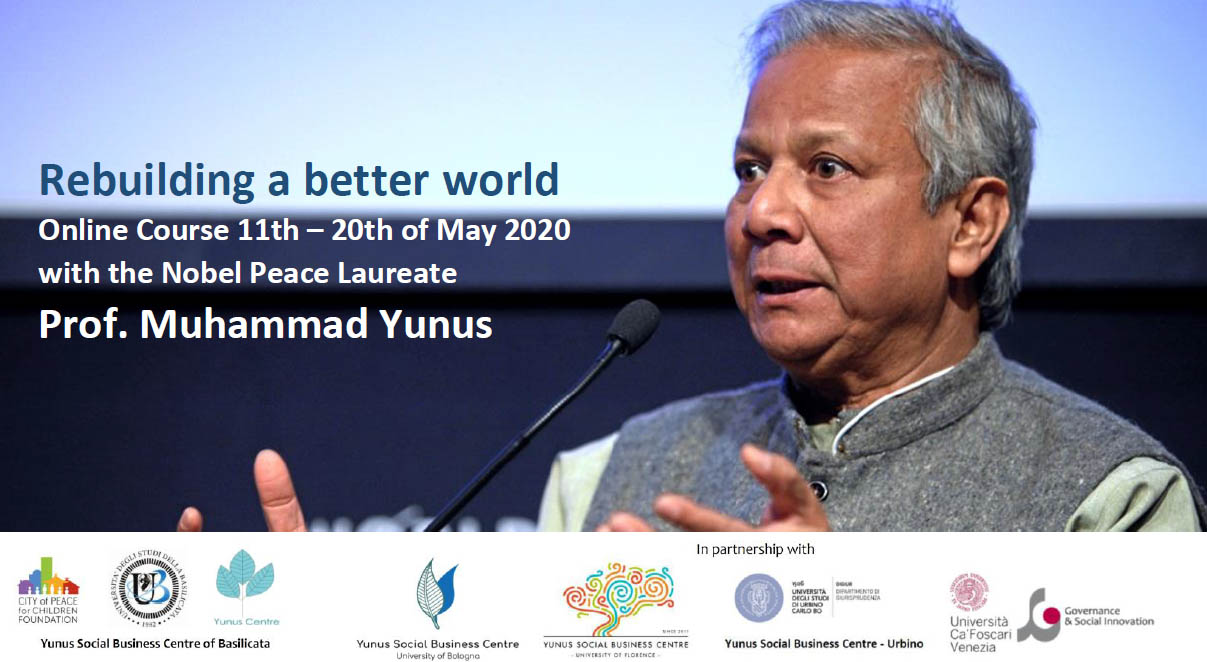 CiTY OF PEACE SUMMER ACADEMY 2019
In 2019, the first City of Peace Summer Camp took place. This is a space that brings together journalists, video-makers, and workers involved in reception projects so that they may devise a new way of telling stories of migration and, in particular, the stories of refugees. Participants come to understand better the world of reception and to establish a productive relationship with the contemporary world in which a migrant should be seen as a bearer of uniqueness and new opportunities.
Please see below the video developed by some Summer Camp participants as a result of a workshop held by the Director Chiara Sambuchi
https://www.youtube.com/playlist?list=PL6GE8DiDbNhXcZbtPwOBGjFyZB0naPOsJ